Enabling credit at the advertiser level can be done within the advertiser's window.
From the Main Menu, Go to Advertisers -> Contracts -> Contracts. Click on the Contract Name to open the Contract Window.
From the Contract's window toolbar. Click on Contract Credit -> Adjust Credit...
The Adjust Credit window will open.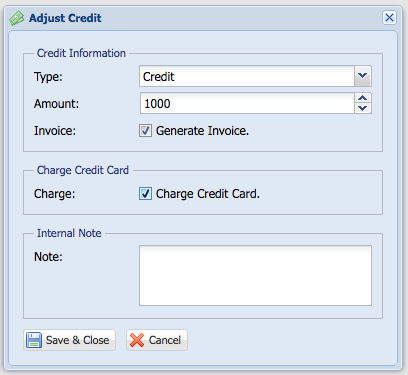 Credit Information
Type:
Credit

: Will add Credit to the Contract.

Debit

: Will subtract Credit from the Contract.
Invoice: Wether you want to Generate and Invoice or not.
Charge Credit Card
If you have Enabled Your Merchant Account within LeadsPedia, you will see this option and checking Charge Credit Card will charge the Advertiser's Credit Card.
If the Advertiser has more than one credit card, the system will try the default credit card first, if the transaction fails, the system will try all other cards.
If you prefer not to charge other credit cards on file, make sure you inactivate them.
Internal Note
This is Optional and for your records only. Your advertiser won't see the internal notes.
Click Save & Close. If Successful, the Advertiser Credit will be updated.