Before using LeadsPedia, you will need to setup your system email. LeadsPedia does not provide you with an email server. No emails will be sent out if your email settings are not setup correctly.
To setup your system email, Go to Settings -> Settings -> System Settings.
The system settings window will pop up. From the left menu, click on System E-Emails. You will see all emails you use for outgoing emails.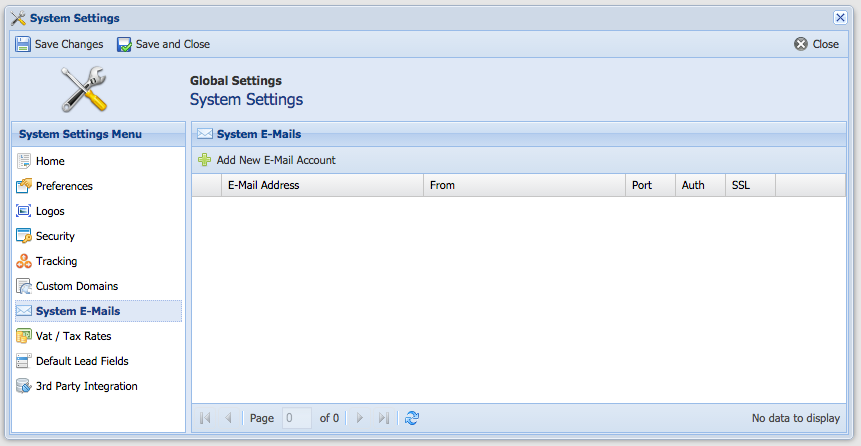 To add a new email account. Click on Add New E-Mail Account.
Go ahead and fill out the form.
E-Mail Address: For all emails sent from LeadsPedia, this will appear as the from email address.
From: For all emails sent from LeadsPedia, this will appear as the sender's name.
Host: The SMTP server IP or domain.
Username: Mail server username.
Password: Mail server password.
Port: E-Mail Port (Ex. 25, 465 or 587 - could be different, depends on your email hosting company)
Auth: Enable or Disable authentication.
SSL: Enable this option if your mail server requires transmission via Secure Socket Layer (SSL).
Click Save & Close.

How to confirm My E-Mail is setup correctly?
To confirm your email is working. Click on
Once you click on the test email icon. LeadsPedia will attempt to deliver a test email to the email account you just setup. If LeadsPedia fails to send the test email, then your email is not setup correctly and no outgoing emails from LeadsPedia will be sent.
Having trouble setting up your email?
If you're having trouble setting up your system email, please contact your email server provider to confirm the host, username, password, port, auth and SSL settings.

What email providers do you recommend?
We recommend using one of the following email providers. Those providers have been tested in LeadsPedia.
Mandrill by MailChimp: http://www.mandrill.com/
MailGun by RackSpace: http://www.mailgun.com/
SendGrid http://www.sendgrid.com/
Campaign Monitor http://www.campaignmonitor.com/